Sometimes all you need to unwind after a busy day is your favorite game of Solitaire. Microsoft Solitaire Collection has 11 different versions of Solitaire, so no matter how much time you have, there's always a version that will suit your needs. From soothing Klondike and TriPeaks to the more intense FreeCell and Pyramid, we've got it all! Plus, we've added Daily Challenges and Events for some extra fun and excitement. With many achievements to test your skills and keep you playing forever, Solitaire Collection offers something for everyone.
Microsoft Solitaire Collection Review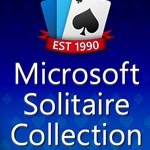 The classic card game is challenging, yet satisfying. You can customize your gameplay with three levels of difficulty to make the experience either relaxing or more challenging. Microsoft Solitaire Collection is the definitive solitaire collection for your PC. Play all your favorite card games, from classic Klondike Solitaire to Spider Solitaire or FreeCell. With a variety of beautiful backgrounds and layouts, Microsoft Solitaire Collection will provide the perfect setting to play your cards right.
Solitaire Collection for Windows is the ultimate collection of classic card games. From Klondike Solitaire to FreeCell, Spider, Pyramid, and TriPeaks Solitaire game modes. You'll find all the time-tested favorites right at your fingertips. To win, you must clear all cards from the tableau by suit in ascending order from Ace to King. The goal is to have stacks of cards in descending order, with the top card on each stack being one higher in rank than the card below it. If you're ever stuck, there are hints.
If you are looking for a new way to have fun, challenge your friends or just relax with something that's easy to pick up and play, Microsoft Solitaire Collection is the game for you. With over 75 Achievements to unlock, Klondike Solitaire, Spider Solitaire, FreeCell Solitaire: TriPeaks Solitaire, Pyramid Solitaire, and Daily Challenges and Events there are hundreds of ways to enjoy this classic game.
Microsoft Solitaire Collection Features
Multiple Game Modes: The collection includes several variations of the classic Solitaire game, including Klondike, Spider, FreeCell, Pyramid, and TriPeaks. Each game mode has its own rules and challenges.
Daily Challenges: The game offers new challenges every day, which are designed to test your Solitaire skills and earn rewards.
Xbox Live Integration: Players can sign in to Xbox Live to track their progress, compete with friends, and earn achievements.
Customizable Themes: The game includes a variety of different themes, card designs, and background images that you can customize to your liking.
Game Statistics: The game keeps track of your game statistics, including the number of games played, the win-loss ratio, and the time spent playing.
Hint System: If you get stuck during a game, the hint system can provide suggestions to help you move forward.
Auto-Complete: If you have made all possible moves and cannot continue, the game will automatically complete the game for you.
Ad-Free: The game is completely free to play and does not contain any advertisements.
Download Information
License: Free
Author: Xbox Game Studios
Operating System: Windows XP, Windows Vista, Windows 7, Windows 8, Windows 8.1, Windows 10
Language: English
File Name: Microsoft Solitaire Collection for Windows 32 and 64 bit setup exe
File Size:

Microsoft Solitaire Collection is a product developed by Xbox Game Studios, this site is not directly affiliated with Xbox Game Studios. All registered trademarks and company names mentioned herein are the property of their respective owners.