Do you enjoy using your gamepad to play your favorite video games? Have you ever wanted to use your gamepad on the desktop? Do you wish you could use your gamepad with a program that does not have any form of built-in support? If so, then AntiMicro is the right program for you. When using a gamepad to play the PC games of yesteryear, there is a particular problem that arises: most of these games were designed with keyboard controls in mind, and therefore support for gamepads may be lacking.
AntiMicro Review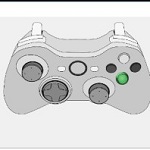 AntiMicro is a graphical program used to map keyboard keys and mouse controls to a gamepad, allowing you to control many games without any hassle. This program is useful for playing PC games using a gamepad that does not have any form of built-in gamepad support. However, you can use this program to control any desktop application with a gamepad. This program is currently supported under various Linux distributions, Windows (Vista and later), and FreeBSD. At the time of writing this, AntiMicro works in Windows XP.
The program is simple to use and most of its functionality is accessed via a toolbar at the top of the GUI. Keys or buttons can easily be mapped to any application, and you have the option to set hotkeys to switch between different profiles. The Program also includes some tools like a Joystick calibrator
If you have a gamepad and you want to play games that do not support it, you can use AntiMicro to map your desired key presses. This program is an alternative to physical hardware adapters that often cost money. Although it does not support analog controls, AntiMicro makes up for this limitation by being free and easy to use.
Download Information
License: Free
Author: AntiMicro Team
Operating System: Windows XP, Windows Vista, Windows 7, Windows 8, Windows 8.1, Windows 10, Windows 11
Language: Engllish
File Name: AntiMicro for Windows 32 and 64 bit setup exe
File Size:


AntiMicro is a product developed by AntiMicro Team, this site is not directly affiliated with AntiMicro Team. All registered trademarks and company names mentioned herein are the property of their respective owners.