There are many reasons why you would need to swap the buttons on your Xbox, PS4, or Nintendo controller. Maybe you want to play your PC games with a pad instead of a mouse and keyboard. Maybe you have an injury, a disability, or just lost some fingers. Whatever your reason, reWASD is a simple tool that allows you to reconfigure the button layout on any gamepad quickly and easily. reWASD brings your favorite gamepad back to life with mouse and keyboard support on Windows. Truly powerful mapper that allows you to remap the Xbox One controller and change DualShock behavior according to your needs.
reWASD Review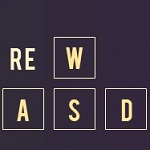 Turn your ordinary joystick to the Turbo and Macro controller. The application has designed a new gamepad mapper to use in games, emulators, and software tools. Now you can finally enjoy using the special features of your Xbox Elite controller and other joysticks in any application with full speed and easy setup. With reWASD, you can create a profile to map your gamepad buttons exactly as you want them. With reWASD, you can map any button on your controller using keyboard keys, mouse + mouse buttons (holds), mouse movements, and left/right analog stick directions.
reWASD lets you map the buttons on your gamepad to the keys on your keyboard and mouse. It allows you to bind gamepad buttons to keyboard and mouse actions, such as moving, jumping, shooting, and reloading. You can remap Xbox Elite paddles too. Whether it's Xbox, DualShock, or any other gamepad, reWASD sets up your gamepad buttons and mouse movements to match them.
Imagine a console-like experience on PC games when you enable the keyboard & mouse in DualShock, Xbox, and Nintendo controllers! Don't get stuck with a gamepad that feels outdated and boring – rejoice in remapping capabilities to make your controller as personal as possible.
Download Information
License: Trial
Author: Disc Soft Ltd
Operating System: Windows XP, Windows Vista, Windows 7, Windows 8, Windows 8.1, Windows 10, Windows 11
Language: English
File Name: reWASD for Windows 32 and 64 bit setup exe
File Size:

reWASD is a product developed by Disc Soft Ltd, this site is not directly affiliated with Disc Soft Ltd. All registered trademarks and company names mentioned herein are the property of their respective owners.