Whether you are an interior decorator or use images for design and architecture – Planner 5D is a very useful and durable tool. You can visualize your interior design projects using augmented reality. Over 6000 decor elements and 20-floor tile varieties are available in the app for creating the most beautiful interior design of your house. With the help of a 3D room planner, you can easily embody any design or exterior of the house: kitchen, bathroom, living room, or bedroom. The app allows you to build your own home with love, using tips and ideas from interior design layouts available in the app with the help of AR Room visualization or a 3D room planner.
Planner 5D Review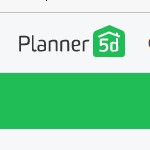 Planner 5D is an easy-to-use interior design application for creating room design concepts and house plans. Using Planner 5D you can create a realistic view of the designed room or house. It is possible to take pictures from the designed room or house and share them with your friends or your professional team. In Planner 5D you can use three-dimensional models of furniture, like beds, tables, or chairs. It has been made with inspiration from top designers around the world who gave their support as beta-testers for Planner 5D app development.
Make your home beautiful using the new and expanded Planner 5D. Create a plan of any floor plan, and with the help of augmented reality (AR) or 3D room, the simulator creates a virtual room – add your furniture and decor, use ready-made projects, view the project in an interactive fly-through. Plan your house with love and set off on an interior design journey.
A virtual room planner with a range of rich interior design features and functionality, Planner 5D gives you total control over the design of your dream home. Using a user-friendly 1, 2, and 3D interface you can easily add any interior or exterior changes, choose furniture and decor items, build custom floor plans, plan a house, and construct it all even before committing real construction.
Download Information
License: Free
Author: UAB Planner5D
Operating System: Windows XP, Windows Vista, Windows 7, Windows 8, Windows 8.1, Windows 10, Windows 11
Language: English
File Name: Planner 5D for Windows 32 and 64 bit setup exe
File Size:

Planner 5D is a product developed by UAB Planner5D, this site is not directly affiliated with UAB Planner5D. All registered trademarks and company names mentioned herein are the property of their respective owners.