No time to resize your images? No problem! Download Image Resizer and get the benefits of automatically resizing pictures, no more hassle to resize big-size photos. Resize your images just in a few clicks now. It's as simple as 1-2-3. This utility helps you resize images and change their filename, folder name, etc. It can be described as an image resizer for Windows where you can directly resize images and pictures without using any external tools. Image Resizer for Windows is fully optimized to function in the Windows environment.
Image Resizer Review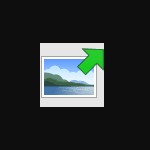 Resize images with ease using Image Resizer for Windows from Brice Lambson. This app comes as an extension of Windows Explorer, where users can select a particular image file and then resize them according to their own requirements. It is a simple way to resize all images on your PC without switching to another program. Put the frequently used tasks right at your fingertips and never have to launch an external program just to resize a few images.
Get started in a few easy steps: Just download the app, install and launch it from Windows Explorer by clicking on the icon and you're all set. The application will resize photos in just a few easy steps. Once installed you only need to drag and drop your files onto the image resizer application icon.
Overall, Image Resizer for Windows is a lightweight app that works as an extension in Windows Explorer to resize images. You can view all the images in Windows Explorer and quickly resize images directly from it or batch resize multiple images.
Download Information
License: Free
Author: Brice Lambson
Operating System: Windows XP, Windows Vista, Windows 7, Windows 8, Windows 8.1, Windows 10, Windows 11
Language: English
File Name: Image Resizer for Windows 32 and 64 bit setup exe
File Size:

Image Resizer is a product developed by Brice Lambson, this site is not directly affiliated with Brice Lambson. All registered trademarks and company names mentioned herein are the property of their respective owners.