DVD-lab is for you if you're searching for a way to author DVDs with no prior experience. It has a very straightforward interface that anyone can understand. If you're looking for something more high-powered, like DVD-lab Pro, which is an excellent tool to learn and understand all the fine aspects of advanced DVD authoring, then you've come to the right place. DVD-lab is an easy-to-use software for authoring DVD movies, video clips, and audio tracks with great flexibility.
DVD-lab Review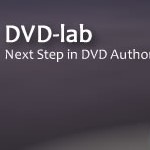 It's suitable for both beginners and experts to create DVDs (VCD, SVCD) and CDs with standard menus. DVD-lab Pro is an excellent tool to learn and understand all the fine aspects of advanced DVD production. This is a powerful DVD authoring tool for professional, DVD authoring. It has been designed from the ground up to meet the needs of today's most demanding DVD-authoring professionals. It provides a complete set of tools and features that allow you to effortlessly create DVD content quickly and efficiently.
DVD-lab is the ideal way to start off your video/DVD authoring journey. Its interface is simple enough for beginners but also has strong functionality that enables you to really get into the nuts and bolts of things without worrying about breaking anything. DVD-lab Pro is the newest authoring tool. It's not for amateurs or people new to the DVD world. DVD-lab Pro is for the serious professional who takes their business seriously.
Overall, DVD-lab for PC Windows is a DVD authoring software that allows you to create your own DVDs with your own choice of menus, subtitles, audio tracks, chapter lists, and much more. With DVD-lab, you can unleash your creativity and easily produce professional-looking DVDs.
DVD-lab Features
DVD Menu Creation: DVD-lab provides a powerful DVD menu creation system, allowing users to create custom menus with backgrounds, buttons, and links to specific video content.
Multiple Video and Audio Tracks: DVD-lab allows users to add multiple video and audio tracks to their projects, including different languages and audio commentaries.
Subtitle Creation: DVD-lab offers a subtitle editor for creating and editing subtitles, with support for various subtitle formats.
Chapter Creation: DVD-lab allows users to create and edit chapters, with options for automatic chapter creation and manual editing.
Interactive Features: DVD-lab offers a range of interactive features, such as video overlays, pop-up menus, and interactive buttons.
DVD Authoring: DVD-lab allows users to author and burn DVDs with various options for DVD structure and compatibility.
Preview: DVD-lab provides a preview function that allows users to preview their DVD projects in real time.
Plugin Support: DVD-lab supports various plugins, allowing users to add additional functionality such as support for new video and audio formats.
Multilingual Interface: DVD-lab is available in multiple languages, making it accessible to users around the world.
Professional Quality: DVD-lab offers professional-level DVD authoring features, making it a popular choice for DVD authors and video production companies.
Download Information
License: Free
Author: Mediachance
Operating System: Windows XP, Windows Vista, Windows 7, Windows 8, Windows 8.1, Windows 10
Language: English
File Name: DVD-lab for Windows 32 and 64 bit setup exe
File Size:

DVD-lab is a product developed by Mediachance, this site is not directly affiliated with Mediachance. All registered trademarks and company names mentioned herein are the property of their respective owners.