Enjoy singing along with the soloist and create your own acapella video with multiple music videos, which are popular on viral video websites. Use a layout to show off your best photos, and combine them into a video for all to enjoy. Acapella Maker is an easy and intuitive tool that lets you create Acapella videos by combining your audios (music, song, or speech) and videos. Its friendly and modern interface allows you to pick one of the available acapella layout designs, add audios or videos from your computer, rearrange them as you like, or play the chosen media randomly.
Acapella Maker Review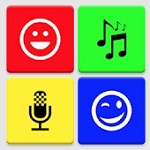 Acapella Maker is free and powerful software that allows you to make acapella videos. With the software, you can fill your photos, images, and GIF animations into multiple layout templates, you can also scale, rotate and flip anything, render out the result video or image sequence in high quality and share the hilarious work with friends. The built-in player allows you to watch the preview of your video in real-time allowing for even more creativity.
This is a free, fun, and easy-to-use video web app that helps you create amazing acapella videos from your favorite songs. With Acapella Maker, you can quickly layout videos of your friends singing an amazing song on top of the instrumental track. Just drag and drop a few of your favorite videos into the builder and in seconds you will have your very own acapella video.
Acapella videos can be really fun and funny, yet they are also a great way to get some help in learning how to read music. So, it's not surprising that the app is being used by teachers as a student reward or by musically talented people who want to show off their work. What is really cool about making acapella videos with our app is that each one can be customized in so many different ways.
Acapella Maker Features
Video and Audio Recording: Acapella Maker allows users to record multiple video and audio tracks, which can be combined to create acapella videos.
Multi-Track Editing: Acapella Maker allows users to edit and mix multiple video and audio tracks, providing a range of editing options such as trimming, cropping, and splitting.
Video and Audio Effects: Acapella Maker provides a range of video and audio effects, such as filters, transitions, and sound effects, that can be added to tracks to enhance the overall quality of the video.
Collaboration: Acapella Maker allows users to collaborate with other users by sharing their video and audio tracks, enabling them to create acapella videos together.
Social Media Integration: Acapella Maker allows users to share their acapella videos on various social media platforms, such as Instagram, Facebook, and TikTok.
Customizable Watermark: Acapella Maker provides an option to add a customizable watermark to videos, allowing users to brand their content.
User-Friendly Interface: Acapella Maker provides a simple and user-friendly interface that allows users to navigate the app with ease.
Multilingual Interface: Acapella Maker is available in multiple languages, making it accessible to users around the world.
Ad-Free: Acapella Maker is ad-free, providing an uninterrupted editing experience.
In-App Purchases: Acapella Maker offers in-app purchases that provide additional features and editing options.
Download Information
License: Free
Author: AZ Screen Recorder
Operating System: Windows XP, Windows Vista, Windows 7, Windows 8, Windows 8.1, Windows 10, Windows 11
Language: English
File Name: Acapella Maker for Windows 32 and 64 bit setup exe
File Size:
How to download Acapella Maker app for PC
Using Bluestacks or MEmu emulator
1. Download and install Bluestacks or MEmu Emulator.
2. Open Bluestacks on your PC
3. Log in to your Google play account.
4. Search for Acapella Maker.
5. Download app.
6. Click install.

Acapella Maker is a product developed by AZ Screen Recorder, this site is not directly affiliated with AZ Screen Recorder. All registered trademarks and company names mentioned herein are the property of their respective owners.