MSI Gaming App is ready to take your game to the next level with an easy-to-use Gaming App, giving you more performance. Select from three profiles – OC Mode, Gaming Mode, and Silent Mode – to reach the best balance of fan performance and noise levels. You get full performance on-demand and total silence when you just want to relax. Use the MSI Gaming App to personalize your graphics with unique LED visual effects, create custom profiles to better tune your graphics card, and even push your graphics card to the max with pre-loaded overclocking settings.
MSI Gaming App Review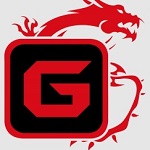 The MSI Gaming App allows you to customize the performance of your graphics card with a single click. The MSI Gaming App is a free Windows-based application that harnesses the power of your MSI Gaming graphics card, giving you full control over it by allowing you to switch between the OC Mode and Silent Mode, with a single click. Quiet performance during light gaming sessions and unrestrained performance when gaming in an intense atmosphere, such as competitive eSports matches.
MSI graphics cards are designed to provide a smooth gaming experience with the latest hardware and software. The MSI Gaming App allows you to crank up GPU and CPU performance via the Dragon Eye's extra LED display, or suppress noise levels. The MSI Gaming App allows you to switch between three color modes with a single click, as well as unlock extra features.
Compatible with all MSI gaming graphics cards, you can easily control your GAMING graphics card from your PC and optimize it to give you a boost in games. Profiles, LED control, and displays are all easily managed with this free app.
Download Information
License: Free
Author: MSI
Operating System: Windows XP, Windows Vista, Windows 7, Windows 8, Windows 8.1, Windows 10, Windows 11
Language: English
File Name: MSI Gaming App for Windows 32 and 64 bit setup exe
File Size:

MSI Gaming App is a product developed by MSI, this site is not directly affiliated with MSI. All registered trademarks and company names mentioned herein are the property of their respective owners.