Have fun in a huge world with limitless possibilities. Minecraft Java Edition is an indie game created by Swedish programmer Markus "Notch" Persson and later developed by Mojang. It has cross-platform play between Windows, Linux, and macOS platforms. This allows players from around the world to play together using servers that support it. The player has an inventory in which he can gather items, build tools and weapons and make different types of blocks. These blocks are used to create anything imaginable, from buildings to sculptures and cities to whole landscapes. The game has no specific goal; players build their own goals.
Minecraft Java Edition Review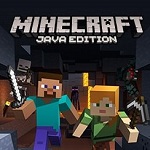 Minecraft is an open-world game that enables you to build anything you can imagine. It also has a survival mode to test your survival skills. The features such as Available on Windows, Linux, and Mac, Access to snapshots, which enable early access to new features, Supports user-created skins and mods, Receiving frequent updates via the game launcher, Compatible with Realms for Java Edition, and Free trial version available. As a member of the Minecraft community, you have access to frequent updates that add new features and fixes based on your input.
Play on your own or with friends, and create incredible constructions using blocks to build homes and cities. Play in creative mode with unlimited resources or mine deep into the world in survival mode, crafting weapons and armor to fend off dangerous mobs. This original version of Minecraft also enables you to access snapshots, which enable early access to new features, and unlike other editions has no additional costs associated with it.
Minecraft Java Edition has cross-platform play, making it easy for you to play with friends no matter what device they're using. Get the original version of Minecraft from Mojang! Play with friends on Windows, Linux, and Mac via cross-platform play. It's a great way to experience the game without buying it first.
Minecraft Java Edition Features
Larger maps: Minecraft Java Edition allows for infinite worlds, with no size limit.
Redstone circuitry: Players can create complex contraptions using Redstone, a type of material that functions like electricity.
Customizable skins: Players can create and use their own skins for their characters.
Command blocks: Players can use command blocks to create custom game rules and effects.
Modding support: Java Edition has a large and active modding community, with thousands of mods available to enhance gameplay.
Multiplayer servers: Java Edition supports dedicated servers, allowing players to join and create their own multiplayer communities.
Resource packs: Players can customize the game's textures and sounds with resource packs.
Creative mode: Players can build freely without restrictions and have access to all items and blocks.
Hardcore mode: In this mode, players have only one life and the game difficulty is locked at the highest level.
Customizable game settings: Players can adjust game settings such as difficulty, game mode, and graphics quality to suit their preferences.
Download Information
License: Trial Version
Author: Mojang
Operating System: Windows XP, Windows Vista, Windows 7, Windows 8, Windows 8.1, Windows 10, Windows 11
Language: English
File Name: Minecraft Java Edition for Windows 32 and 64 bit setup exe
File Size:

Minecraft Java Edition is a product developed by Mojang, this site is not directly affiliated with Mojang. All registered trademarks and company names mentioned herein are the property of their respective owners.