Who will become a Peggle Master? Peggle is a magical game of luck and skill that's easy to learn and simple to love. Your luck begins with your first shot, but skills win the day. Whether you're clearing orange pegs in Fever Mode or racking up bonus points in Duel Mode, only you can control the path of your ivory ball. Make it all the way through a level by clearing every orange peg with just 10 special magic powers: Rainbow-Colored Ball, Pegs-O-Plenty, Super Guide, Extra Shoots, and five Power-ups.
Peggle Deluxe Review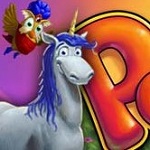 Peggle is a ball-bouncing joy fest of colorful, casual delights. It's a daily dose of happiness wrapped in cheerful marbles and bright lights. Dive deep into the dazzling depths of the imagination where 10 lovable Peggle Masters will guide your every shot. Rebounding rainbows. Miraculous moonbeams. Even time itself is at your fingertips! Every luscious level is filled to bursting with boosts, ball launchers, and stylish power-ups while ten-strong spellcasters lead you on a magical journey to Peggle greatness.
It's casual fun to be shared by all – family, friends, frenemies – anyone with a sense of adventure, or a pulse for that matter. The aim, shoot and clear the orange pegs. Ten whimsical teachers will guide you to Peggle greatness. Conquer 55 levels with 10 mystical Magic Powers. Face off against your friends in Duel Mode or tackle 75 extra-tricky challenges. It's luck and skill and thrills aplenty, as well as a feast for your eyes!
Bring home the fun with Peggle Deluxe, the classic award-winning game that inspired countless imitators. Discover the magic behind 55 levels of worshipful wonder and 75 brand-new challenges that put your skills to a serious test. It's luck and skill and joyous thrills, and amidst all this fevered action only one question remains: Can YOU achieve Master Peggle?.
Peggle Deluxe Features
Colorful and casual gameplay with bouncing balls.
10 Peggle Masters who guide your shots.
Various power-ups and boosts to enhance gameplay.
55 levels to conquer with 10 Magic Powers.
Duel mode to compete against friends.
75 extra-challenging levels to complete.
A combination of luck and skill is required to succeed.
Visually appealing graphics and effects.
Suitable for all ages and skill levels.
Offers a sense of adventure and joy.
Download Information
License: Demo
Author: PopCap Games
Operating System: Windows XP, Windows Vista, Windows 7, Windows 8, Windows 8.1, Windows 10, Windows 11
Language: English
File Name: Peggle Deluxe for Windows 32 and 64 bit setup exe
File Size:

Peggle Deluxe is a product developed by PopCap Games, this site is not directly affiliated with PopCap Games. All registered trademarks and company names mentioned herein are the property of their respective owners.